Our awards are a testament to Turner Little's unwavering commitment to providing excellent service over the years.
We would like to thank everyone who has helped us gain recognition for our world-class business services, including all of our dedicated team at Turner Little and our valued clients, several of who nominated us for these prestigious awards.
Winner of the 2017 Business Excellence Award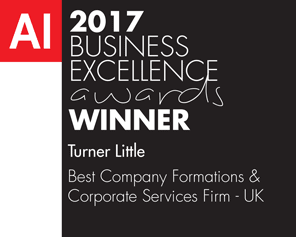 We are delighted to be recognised as a leading provider in the global Company Formation industry, and we look forward to providing continued assistance to our valued clients in the future.
Winner of the Wealth & Finance 2016 Business Awards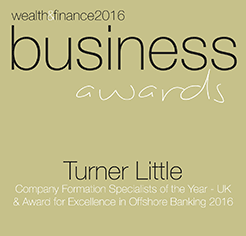 Following our success in 2015, Turner Little was declared as a winner of the Wealth & Finance 2016 Business Awards in both the categories of Award for Excellence in Offshore Banking and also for the Company Formation Specialist of the Year – UK.
AI Sector Performance Award Winner

In 2015, we were named the winner of the Best Global Company Formation Agent by Acquisition International Magazine in their Sector Performance Awards.